About Us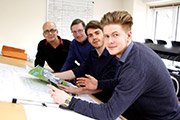 Here at DPL Renewables, we are proud to provide a wide range of specialist services to equip commercial and domestic properties with sustainable energy solutions. With years of experience in the industry, our leading company are able to provide fully comprehensive work at a great price to customers throughout the areas of Ipswich, Colchester and Norwich.
Our fully comprehensive renewable energy solutions include the installation of the following:
Solar PV
LED energy efficient lighting
Commercial solar power
Infrared heating panels
To find out more about any of our solar energy solutions, simply get in touch with our friendly team of experts today or pay us a visit at our facilities. We'll be happy to help, whatever the enquiry, and work efficiently yet thoroughly to provide the right solution for your property.
Marcus Kwan, Ipswich
Quick installation and great energy output
The service I received from DPL was excellent; they provided good information and answered all our questions. I had thought about Solar for a while and wondered about us moving house and if it would be worth it. We decided just to go for it and had it installed.
I know DPL well as we have used their electrical services at work and therefore I had trust in them knowing that they are not just sales people and it gave me confidence to have my solar installed by a reputable company that have been running for quite some time.
The quote we received from DPL was cheaper than the competition and the system we chose not only produced more power but was £900 cheaper.
The scaffolders really thought about the needs of our family and put up and took down the scaffolding quickly. The solar panels were quick to install and we have received great energy output.
Read more
More case studies »