How Solar Panels Work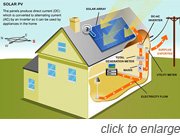 The sun doesn't necessarily need to be blazing for your solar panels to produce electricity. So, contrary to some misconceptions, the UK does get enough sunlight to make the installation of solar panels worthwhile – in fact, in one hour the sun produces enough energy to meet the needs of all human life for a year.
PV, or Photovoltaic, means light and electricity; the photoelectric reaction is found in certain materials when they are exposed to light and it is this reaction which creates energy for electricity.
With a top layer of material coated in atoms with too many electrons and a bottom layer coated with too few electrons, the excess electrons on top move to the bottom layer. This process of moving electrons, stimulated by sunlight, creates electricity which is then converted from Direct Current to Alternating Current, so it can power your appliances. This means you take less electricity from the national grid, lowering your energy costs.
At DPL Renewables we can supply, install and maintain solar panels across Ipswich, Colchester, Norwich and the surrounding areas to help you reduce your electricity bills and lower your carbon footprint. To find out how much you could save, simply get in touch with us today.
Mrs Hitchens, Norwich
Very efficient and knowledgeable
We found DPL Solar very efficient and knowledgeable; they were better than all the competition that had presented to us. We did our homework and had five quotes. There was a lot of information and we ended up using a consultant to help us chose which company to go for.
The chap at DPL who did our survey was excellent; very competent. We had previously been told that we would only be able to fit ten panels on our roof. However when the surveyor from DPL came to us he told us we could have fifteen panels and we fit them in.
The great advantage that DPL have is that they cut out the middle man as they supply the equipment keeping the price low.
We have already and will continue to recommend DPL to others.
Read more
More case studies »