Domestic Solar Power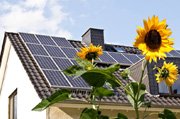 Soaring energy bills means it is becoming more expensive to use electricity in our homes, but with domestic solar panel installation from DPL Renewables you could produce your own cleaner energy, cut costs on monthly bills and receive payments through the feed-in tariff which is tax free and rises with inflation. We offer a comprehensive service for all domestic solar panel systems from the installation to maintenance.
Our trained engineers will provide quality solar products for your solar installation and fit them to the highest standards, ensuring you get most from your roof space making it the best financial investment. We fit solar power panels on houses of all shapes and sizes across Ipswich, Colchester, Norwich and the surrounding areas using our specialist industry knowledge and expertise.
From start to finish we will meet your individual needs with our cost effective systems, we never compromise on the quality of our services or our products. We value ourselves on an excellent service at competitive prices.
For more information on how solar energy benefits your home, including how much you could save on energy bills and lowering your carbon footprint, contact our professional team today.
Marcus Kwan, Ipswich
Quick installation and great energy output
The service I received from DPL was excellent; they provided good information and answered all our questions. I had thought about Solar for a while and wondered about us moving house and if it would be worth it. We decided just to go for it and had it installed.
I know DPL well as we have used their electrical services at work and therefore I had trust in them knowing that they are not just sales people and it gave me confidence to have my solar installed by a reputable company that have been running for quite some time.
The quote we received from DPL was cheaper than the competition and the system we chose not only produced more power but was £900 cheaper.
The scaffolders really thought about the needs of our family and put up and took down the scaffolding quickly. The solar panels were quick to install and we have received great energy output.
Read more
More case studies »